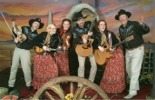 If you liked the Circle B Chuckwagon's Cowboy Music Show . . .
Check out the other fine shows currently showing at the Circle B Chuckwagon Theatre!
---

Act of God is the #1 Christian Comedy in Branson

10 AM Monday through Saturday at the Circle B Chuckwagon!
Begin your Branson getaway with a show packed with "Carol Burnett style" skits and stories, classic comedy, drama and music. Act of God's original music covers a wide range of classic styles from Broadway to Gospel to Country (No Rap). This Branson Show is 100% Christian fun, and great for kids, pastors and everyone in between. Make sure that your Branson experience is both entertaining and enriching with a show that's proven to be the finest Christian entertainment in Branson.
Using the Bible as the ultimate example, it's clear if we hope to be as affective as the Bible is, we need to do what the Bible does – tell stories.
Purchase tickets through this website here for the Act of God and Circle B Chuckwagon Combo tickets to save even more money! Or call (800) 678-6179 for reservations now!

---
Any questions or comments about this site? Contact the Webmaster
© 2007 Circle B Chuckwagon
Site designed and hosted by Phoenix Internet Services