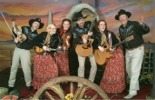 THE COWBOYS HAVE ARRIVED IN BRANSON!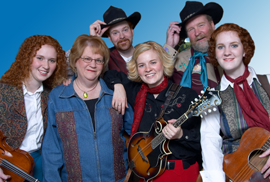 The Horn Family has been so warmly received by the cowboy entertainment community that they were encouraged to start a Circle B Chuckwagon in the "Live Music Capitol of the Universe", Branson, Missouri!
They have redecorated the former "Dinner Bell" restaurant right on "The Strip" (Highway 76). The Horn Family is now fully operational with an air-conditioned, yet rustic chuckwagon supper and cowboy music venue.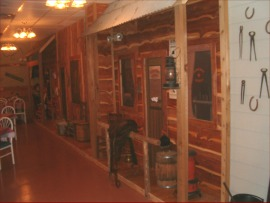 The Horn Family will continue personally providing the high quality of music and food that they brought you at the Circle B Ranch in the Black Hills of South Dakota. But along with their new theatre, they are taking on a new name: the Riders of the Circle B! The Riders are serving up chuckwagon chow and good ole' cowboy music Monday through Saturday evenings at 5 PM and on Wednesday and Thursdays for an 11 AM Lunch! The Riders have been joined by two-time Louisiana State Fiddle Champion LOUIS DARBY!
The Horn Family's Riders of the Circle B serve the food right to your table on old-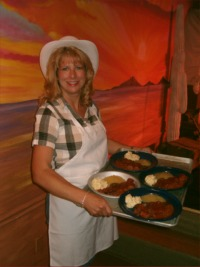 fashioned tin plates. Then the Riders bring around buckets of seconds to refill your plate until you say "Whoa!" The meal is slow-roasted beef, barbecue beef sausage, cowboy baked beans, foil-wrapped spuds, chunky applesauce, fresh-baked biscuits and hot peach cobbler for dessert! Your admission price also includes complimentary iced tea, cool water, and hot coffee. For a small fee, you may also enjoy an old-time sarsaparilla or other soft drinks from our Sarsaparilla Saloon. Arrive early for FREE popcorn and cowboy movies and shows on the big screens! Supper and show is all done in two hours–so you're done in plenty of time to get to your next appointment. Or make the Riders of the Circle B your main evening entertainment for an early night.
Reservations for Circle B Chuckwagon Branson will be taken at (800) 678-6179 and (417) 336-1828. Correspondence may be directed to Circle B Chuckwagon, 200 Jess Jo Parkway, Branson, MO 65616.
Back to the top

---
Any questions or comments about this site? Contact the Webmaster
© 2007 Circle B Chuckwagon
Site designed and hosted by Phoenix Internet Services